Some time in the early 2000s I bought a Honda XL250S from my brother for £100 and in time honoured fashion this came in a box as he himself had bought it and never fixed it up.
Somehow the previous owner had shot a main bearing and subsequently the valves had suffered from kissing the piston.
I stripped the engine, new parts purchased and the engine rebuilt. The only other work needing doing was front suspension sorting out and the rear swing arm which was starting a new career as a colander so with steel from my workshop and the mig welder my "Green Laneing" journey began.
The XL was a great machine for the novice is it had loads of torque without the power to bite your arse. It would happily chug along all day and was reasonable easy to restart (kick start only) after turning it upside down. In all the years I owned it, it never once let me down.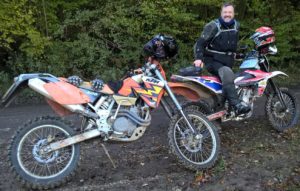 In 2016 a friend was selling a KTM EXC400 Racing for avery reasonable price as it needed a few things sorting, sprag clutch for one.
I love this bike. Like the XL it's got loads of torque with nice sensible delivery so it looks after you.
It has been very reliable and easy to own up until (this weekend as I write) December 2019 when the engine suddenly started making nasty noises, fortunately just at the end of my journey. I put it in my workshop today for the engine out and complete overhaul which it rightly deserves. More to come on that one…
So having stripped the engine it turned out to be a broken inner cam bearing but I split the crankcase as a broken 4mm bolt came out with the oil from the gauze filter. I then found the nylock nut, both of which were crunched up. These bits were from a broken auto decompressor before I owned the bike. Obviously ignored by the repairers. Fortunately no real damage done. This is why I do my own work on my bikes!