Having sewn from an early age, starting with dolls cloths as a child, I progressed to making clothing for myself and family as a young married mother.
I first ventured into Patchwork & Quilting in the 1970's after watching a television programme on crafts and like many others my first piece was hexagons. Following this were a couple of pieces using Laura Ashley fabrics which were very popular at the time.
Life and children (two girls and a boy) delayed further work until the early 1990's when we moved to Basingstoke, having just bought a business. Even with this full time work challenge I joined the North Hampshire Quilters Group in Basingstoke which is still a busy popular group to this day and The Quilters Guild. With the North Hampshire Quilter Group I learnt how to do it 'properly'. I made many quilts for family members and joined in on a few Row Robins and group challenges always using 'popular' patterns.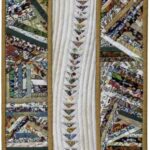 You can only make so many 'proper' type quilts and my creative juices needed to be further challenged, I wanted to make unique work which lead to me doing City & Guilds courses which really inspired me. At school I had been told more or less that I was useless at art but I found that I was drawn to Art Quilts and seemed to have the skill to design and produce them. I won 1st prize at The Festival of Quilts . The winning quilt was my miniature.
Although I'm drawn to art pieces I also like Modern and Traditional quilting trying to create a mixture of works. The girls and I, from my C&G courses regularly meet and work together trying to produce a group entry for The Festival of Quilts each year.
Having sold our business (hurrah! It took a while!) and retired, Chris and I are looking forward to spending more time with our hobbies and pastimes. I'm now looking to produce many challenging and interesting pieces. My retirement present to me is a mid arm quilt machine
which Chris imported from the USA and hand built a 3m alloy frame for. I'm busy learning this skill currently and having fun playing with it. I'm yet to get properly proficient with it, it can be fun and frustrating one at the same time.
Anyway that's enough about me, I've got stuff to do….